Custom Mesh Banners - High Quality Banners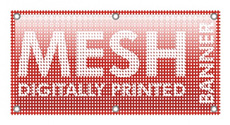 Mesh Banner with its micro-holes is very useful for construction site and building enclosures, tall scaffold towers, internal screens, or a promotional banner which needs to let some light and/or breeze through - use welded edges and reinforced corners including the ropes, eyelets or pockets used to hang your banner

Mesh banners are printed in full color. You can add unlimited background colors, text, clipart and photographs to the banners. Standard finishing includes heat welded hems and grommets.